M a r k e t N e w s
Officials from Ethiopia and Algeria discuss pharmaceutical investment
Posted on : Thursday , 25th August 2022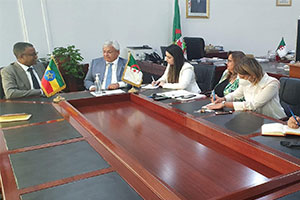 The two officials got together to talk about ways to improve their nations' sisterly relations' bilateral pharmaceutical collaboration. Minister Dr. Benbahmed received a briefing from Ambassador Nebiat, who also described the regulatory and distribution framework for pharmaceuticals in Ethiopia. Ethiopia offers a significant trade and investment potential for the pharmaceutical industry in Algeria.
He continued by saying that, in accordance with data gathered from Ethiopia's Ministry of Foreign Affairs, the country has created an atmosphere that is favourable for investors by establishing pharmaceutical industrial parks among other incentives.
The ambassador recalled President Sahle-Work Zewde of the Federal Democratic Republic of Ethiopia's recent visit to Algeria and their conversation there with President Abdulmadjid Tebboune of the People's Democratic Republic of Algeria, during which they both emphasised the value of fostering closer economic ties between Ethiopia and Algeria.
The People's Democratic Republic of Algeria's Minister of Pharmaceutical Industry, Dr. Abderrahmane Djamal Lofti Benbahmed, emphasised that further inter-agency cooperation between the two nations' pertinent institutions is necessary.
In order to achieve this, the Algerian Ministry of Pharmaceutical Industry and the Ethiopian Ministry of Health, as well as the National Agency for Pharmaceutical Materials (ANPP) and its Ethiopian counterpart, the Ethiopian Food and Drug Administration (EFDA), signed a partnership memorandum of understanding (MOU).
Additionally, he indicated Algeria's willingness to use exchange visits and a pharmaceutical exhibition in Addis Abeba, Ethiopia, to promote players in the Algerian pharmaceutical business to the Ethiopian market. According to the statement, they both decided to work together to establish a strong partnership in the medicines industry.
Source : www.newsbizz.com