M a r k e t N e w s
Affordable "Chronicle diseases" treatment to Ethiopia- Norvartis
Posted on : Friday , 21st December 2018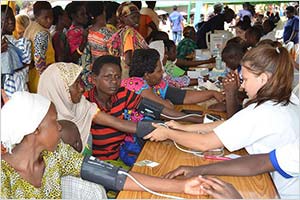 A new program in Ethiopia called "Novartis Access" has been started by Novartis in order to tackle non communicable diseases also known as chronicle diseases such as breast cancer, hyperbatons, asthma and diabetes. The reason for selecting these diseases are because more and more people are dying from such non- communicable diseases. Novartis Access program involves products from Novartis Pharmaceuticals.
Dr. Nathan Mulure, Novartis Social Business cluster head for Southern and East Africa said that, "We are providing this service at a cost of $1 per month per treatment."
The Social Business wing of Novartis for the past few years has been implimenting similar programs in other countries including, Kenya, Rwanda, Cameroon and Zimbabwe and they are also planning to extend its Novartis Access program in Nigeria and Zambia as well.
"For Ethiopia, by the year 2040, 70% of the death will be due of non-communicable diseases and therefore it is now necessary for us to take measures early by making available these products at an affordable cost", said Dr. Nathan Mulure.
In the year 2017, Novartis Social Business provided 30 million plus medicines against infectious and chronic disease and reached over 7.5 million people with health education, according to a presentation by Dr. Nathan Mulure.
It is reported that non communicable diseases such as cancer, cardiovascular diseases, chronic respiratory diseases and diabetes cause 60% of all global deaths.
This program whose MoU was signed with the government of Ethiopia in 2015 is being implemented in addition to supplying some 15 basket of drugs to the government under the program.
Novartis will also work with government and other partners to make sure that screening programs are put in place such as, training local health care providers on how to tackle these diseases.
Dr. Nathan Mulure said, "in Ethiopia we are so happy because we are going to involve community health workers to make sure that they are well equipped to handle or detect such diseases and symptoms by doing blood measurements in the villages and screening."
According to Dr. Nathan Mulure, who spoke with journalists in Addis Ababa further commented that "if patients are discovered to have these diseases or high blood sugar or hypertension, the patients will be referred to high centers for treatment."
It is expected that the program will be implemented across the country in 15 hospitals, 45 health centers and dozens of Ethiopia Red Cross drug stores.
Source : newzmart