M a r k e t N e w s
Wrigley's Looks to Increase Market Share in Kenya with New Factory
Posted on : Thursday , 26th July 2018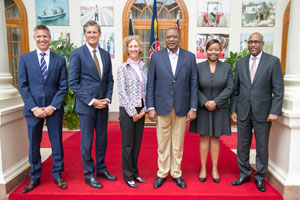 Mars Incorporated is close to unveiling their new Sh7 billion factory in Athi River later this year as part of their expansion drive of Wrigley's their chewing gum manufacturing subsidiary.
The decision was announced after a meet between director Victoria Mars and President Uhuru Kenyatta in Nairobi. On completion, the Wrigley's factory is expected to produce 7.8 billion pellets of chewing gum every year, a move that is expected to see Wrigley's market share in the region grow substantially.
Wrigley East Africa is seen as the leading producer of chewing gum in Kenya and holds a market share of an astonishing 87 percent as of 2017; they are followed by Mndelez International (five percent) and Lotte Confectionary Company (four percent).
President Kenyatta expects manufacturing firms, both international and domestic to play a vital role in the achievement of his Big Four agenda.
"Your goal to boost local manufacturing capacity is timely and offers a great opportunity to expand employment and job creation for Kenyans, while cementing the country's position as a key industrial hub in Africa. Wrigley is keen on growing and developing our business here and contributing to this noble objective," said Ms Mars, who is also a board member and immediate former chairperson of Mars Incorporated.
Wrigley's first entered the Kenyan market in 1972; the factory in Kenya has been supplying products to Tanzania, Rwanda, Burundi, Ethiopia and even South Sudan. Ms. Mars revealed that the new plant will now meet increased demands in the East African markets.
Source : www