M a r k e t N e w s
Sansheng Pharmaceuticals, China starts production in Ethiopia
Posted on : Monday , 25th June 2018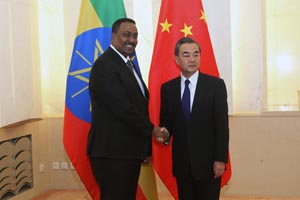 Sansheng Pharmaceuticals Plc, a Chinese pharmaceutical company starts its new production unit in Addis Ababa, Capital of Ethiopia on Sunday, June 17, 2018.
Ethiopia still has a big number of pharmaceutical products being imported from out of the country. The number is as big as 85 percent of the 500 million U.S dollar per annum local market.
"Pharmaceutical Sector has not yet evolved into where we projected it to be -- both in terms of its investment portfolio, production capacity, technology acquisition and the creation of employment opportunities." Demeke Mekonnen, Deputy Prime Minister of Ethiopia said.
"Your investment to Ethiopia could not have come at a more opportune moment," Mekonnen said.
Sansheng Pharmaceuticals is looking forward to grow their export business. They'll start exporting medical drugs to other countries in Africa and on the globe. This will help bring in the hard currency, which is much needed, to the Ethiopia, an East African Country.
According to him, the company, which is environment-friendly with high-end technological equipment as well as a source of Foreign Direct Investment (FDI) to Ethiopia, currently operates.
Source : www