M a r k e t N e w s
Jubilee Insurance to Launch New App in Tanzania and Uganda
Posted on : Tuesday , 12th June 2018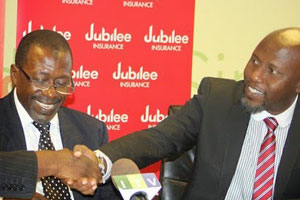 Jubilee Insurance has announced plans to introduce a new medical mobile app, JubiCare in two East African countries, Uganda and Tanzania by the end of this September. The app was officially launched in February and enables clients to access policy data in real time and also locates the underwriter's medical providers.
The app is armed with various features like a health facility finder and navigator, e-health records, pre-authorisation requests, medical card management services and also e-wellness.
Julius Kipng'etich, Jubilee Holdings regional chief revealed that plans were being made to make the mobile application available in Ugandan and Tanzanian clientele.
"We're still rolling out the service in those regions and they'll be able to access their details on the app once integration with the database is fully done," he said.
The Insurance Company has lately made considerable investments in the development of transmission of claims electronically, the greater use of biometric identification cards, digital mobile applications and artificial intelligence.
Jubilee Insurance has been studying various reviewing systems and operations along with implanting enhanced information technology controls to fight fraud. They have also partnered with old partner once again to find new and effective ways to manage medical fees.
Source : www